About our program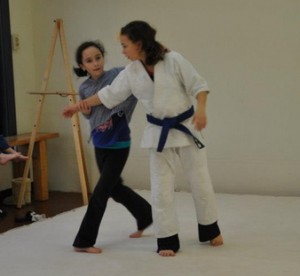 We at Kinokawa Aikido feel we have a responsibility not only to your child, but to everyone your child interacts with. This means we don't simply teach and drill techniques into your child which s/he can use to injure others. Aikido is a martial art specifically conceived to help the world, and to bring people to a higher level of consciousness.
We take the training of every student, especially children, very seriously. Studying Aikido is not an easy path, so we begin with very simple exercises and encourage each child to grow at their own pace. Our program is designed to safely lead your child from their first day through to training as an adult. Together with your involvement and guidance outside of our program, you will see your child become more focused, more relaxed, and happier.
We will give your child a thorough grounding in the martial art of Aikido, but we will do so responsibly. Your child will be taught and tested on techniques which bring the mind to focus, steadiness and calmness, but there will be little emphasis in the early years on what you might consider self-defense technique. As s/he grows in maturity, movements and technique with a more direct link to self-defense are introduced and developed.
There are no competitions. Everyone works to help everyone else. That is Aikido's approach to practice.
Age Groups, Pricing and Schedule
We have taught children as young as four years with great success, though more typically they are in the seven to twelve year range when they start. Children will generally be placed based on their age and stature; Exceptions are made for exceptional children.
Kids – Children ages 4 to 6: dues are $65 per month.
Juniors – Children ages 7 to 12: dues are $85 per month.
Classes for children are available three days per week; Monday and Tuesday evenings, and Saturday mornings. Students may attend as many classes as they wish; There is no minimum number required. Most students attend two or three classes per week as their schedule permits.
Joining and Paying Dues
We look forward to meeting you and your child so we can answer your questions face to face. After we've met – and this can be the same day – we suggest that you have your child attend a few classes before enrolling.
Your child's dues are to be paid by the 15th of each month, by credit card or by check. There are never any contracts. We do NOT sell you to a third-party billing service!
Uniforms
All children's wear a traditional Aikido uniform. The uniform consists of pants and a top, (as in the photos on this page,) plus a colored belt which indicates the students rank. The uniform is $60; Alternatively, we will give you a free uniform if you pay for three months up front when your child enrolls.
Testing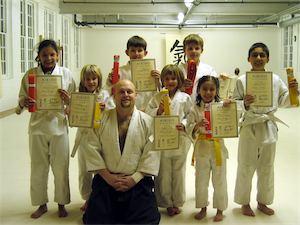 Testing in Aikido is performed to give the student the opportunity to demonstrate what they have accomplished to date. The testing is not competitive. Students never fail a test. They are tested only when the instructors know they are ready to be advanced.
Testing dates are scheduled regularly, well in advance and are about eight weeks apart. Please see our schedule page for the exact dates. On a given test date, all the programs (kids, children and adults) take tests during their normal class times. This enables families to be at the dojo together to watch and participate in each other's tests.
There is a $25 test fee for both the Kids' and the Children's programs. Students of all ages generally test twice per year.
The Children's program also includes a system of stripes that distinguish smaller advancements within the individual ranks. These "stripe tests" are performed during regular classes and there is no testing fee.