Sensei Michael Wirth, founder of Kinokawa
A History of Kinokawa ryu Aikido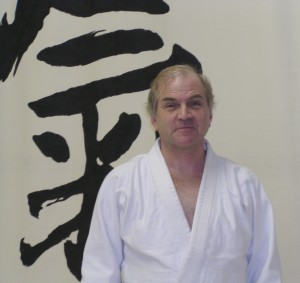 My Aikido training began in Sensei Maruyama's Arch St. Dojo in April, 1972. I was then a young man of 24 with some Tae Kwon Do training (from S. Henry Chi, in Manhattan) and many street fights in my past. The grace and power I witnessed in those first few hours at the Dojo drew me into the way of Aikido.
In those early days we spoke little and trained very hard. There were only a few students who endured for long.
Maruyama Sensei was a student of Koichi Tohei Sensei and O'Sensei. By 1971, two years after O'Sensei's death, divisions of viewpoint regarding who was to lead Aikido and how it was to be conveyed and directed lead to a split between Tohei and Kisshomaru Ueshiba, the Founder's son. Maruyama Sensei aligned himself with Sensei Tohei, and so it was that our practice in the 1970's reflected both the early style and training of O"Sensei as preserved and conveyed by Aikikai and the flowing late life Aikido of O'Sensei presented by Tohei.
In 1980 Sensei Maruyama moved to Nagoya Japan, leaving senior students to run his two Philadelphia Dojos. The next few years brought a slow but steady growth to these schools and the blossoming of a division between Tohei and Maruyama. By 1985, these two extraordinary men were no longer working together.
Maruyama founded Kokikai as a vehicle for Aikido fundamentally and stylistically true to Tohei's. As Kokikai continued to grow, I opened Kokikai dojos in Reading, Pottstown, and Norristown. During this time, differences between Sensei Maruyama's Kokikai, and my style were becoming apparent. By 1991, my schools were operating independently from the Kokikai organization, and they were given the name Kinokawa.
My Recommendations for You
Practice every moment.
Don't hesitate to use the principles and techniques of Aikido in the defense of family and friends, country or strangers in need if this is what you are called upon to do.
Live each moment with a relaxed mind and body, neither clinging to, nor avoiding, whatever arises.
Mesut Pervizpour, godan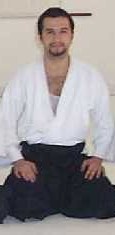 I started to practice Aikido with Hanshi Michael Wirth in Summer of 1995 at Bethlehem dojo while a graduate student at Lehigh. The beauty of the youthful energy at that age was the ability to endure 24 hour of mat time every week. We practiced hard and serious, yet smiling and happy. By 1997 I was teaching classes at the Bethlehem dojo and Lehigh Aikido club. By the end of 1999, I established the Drexel University Aikido Club and taught there for four or more years while still regularly practicing at Allentown dojo with Hanshi Wirth. Since then I have established and taught Aikido clubs at Widener University and Muhlenberg College while teaching at then main dojo at Brynmawr under Hanshi Wirth.
My background in martial arts also includes training in Full-contact Karate and Muai Thai. I continue to practice and incorporate effective striking techniques as a part of our Aikido training. I believe in the realistic application of Aikido practice that can only originate from steadfast relaxed mind and a truly open heart, achieved though eliminating one's self (ego) through hard practice. I carry out my daily life as a part of the path in Aikido which allows continual change, growth and balance within and without.
Our dojo has always been a welcoming, friendly environment. I enjoy sharing the experiences passed to us with friends and students, and looking forward to meeting all on the mat.
JD Lepeta, yondan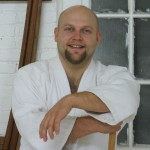 J.D. Lepeta has studied and practiced many martial art and self-defense styles for a majority of his life.  He is currently a fourth dan in the art of Kinokawa Aikido.  Since 1994 he has studied almost exclusively with Michael Wirth Sensei; the Founder of this Ryu, Kinokawa Aikido.  He's proud to have been Michael Wirth's first Ushi Deshi.  He looks forward to teaching and learning at the new Allentown dojo.